Time For May Savings! Get $25 Off Orders Over $199!
Use coupon code MAY25 at checkout on orders over $199 and get $25.00 off your order total! 
MAY SAVINGS IS ONLY HERE FOR A LIMITED TIME. SAVE NOW!
Get $25 Off On Orders Over $199!
For example; Spend anything over $199 on parts marked eligible for Discounting: yes and get $25 Off on your order total. A minimum purchase of $199 is required for the coupon to apply! Promotion doesn't stack, maximum discount allowed is $25.00. ALL ITEMS IN CART MUST BE ELIGIBLE FOR DISCOUNTING FOR COUPON TO FULLY APPLY. ONLY ELIGIBLE ITEMS IN YOUR CART WILL BE DISCOUNTED.
Restrictions Apply. See below for complete details.*
Promotion valid 05-01-19 12:00am EDT. to 05-06-19 at 11:59pm EDT.
Use Coupon code: MAY25 at Checkout
Coupon expires 05/06/19 at 11:59pm EDT.
Choose your car below to shop our selections of parts!
---
Terms and Conditions:
Coupons can not be combined or used with any other offers, promotions, or coupons.
*For the $25.00 offer to apply the order total must be $199.00 or greater. The $25.00 coupon only applies to items marked as Part eligible discounting: Yes (discounting information can be found on the product pages for all parts).SEE EXAMPLE BELOW!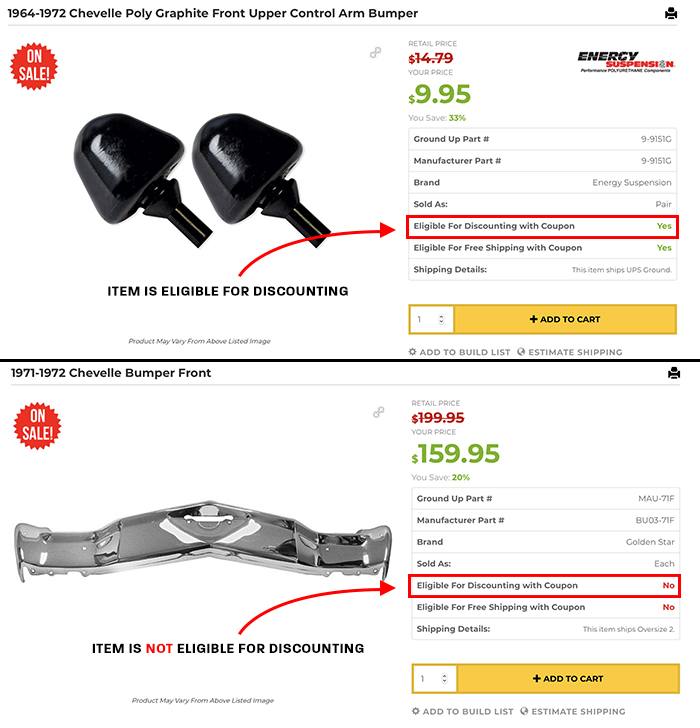 If your basket contains a mixture of items marked as both Yes and No for eligible for discounting your order total will be reduced to reflect any items set to Yes for " Part eligible for discounting: Yes".
MAY25 coupon code valid until 05/06/18 at 11:59pm edt!