Jim & Chris Wright's 1971 Chevelle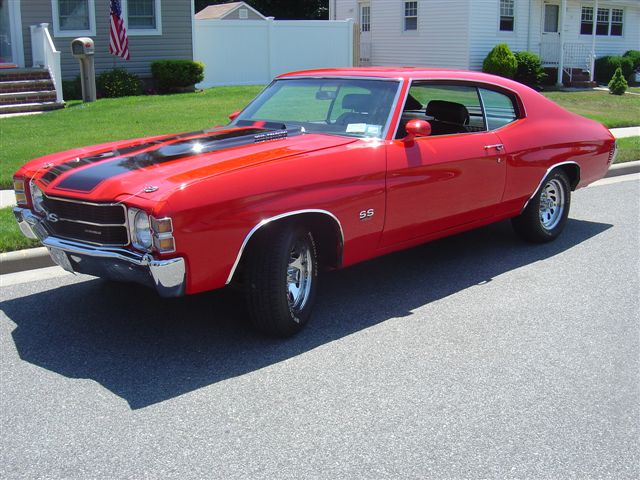 Jim's and Chris's Driven 1971 Chevelle – If It Gets Wet, It Gets Wet

For Chris Wright, the muscle car bug hit early! Ever since the age of 14, he knew he wanted one. So he did what young guys do and went to his father in hopes of rekindling the old muscle car flame. Wise move, because not only did his father Jim agree that restoring an old car together would be a good idea, he insisted it is a big block with a 4 speed! Can't complain about that! They didn't care if it was original or not, it just needed to be local. But as we all know, finding a big block, 4-speed car close to home isn't always easy. And nevertheless, they didn't get the Chevelle you see without a little disappointment along the way.
After a few weeks of searching, Jim and Chris found a car and fell in love with it. There were only two problems: it was way out of their price range, and it was all the way in Ohio! Now the hunt was on!
According to Chris, "After perusing countless ads online, and in the newspaper, we found one about 2 hours away from our home." We called the man, and there was no answer. We figured it was too good to be true, and shrugged it off rather quickly. At about 9:00 at night, we got a callback. He still had the car and he would send us pictures. The paint was dull, there were no trim rings on the wheels, the bumpers were painted, and the header was cracked. But it was a 4 speed and a Big Block. The next weekend the whole family went up and looked at the car."
Chris remembers their trip very vividly. "We pulled into a neighborhood in the middle of nowhere, to be confronted with very large and beautiful homes. There was one street with a dead end. We saw the car sitting in the driveway, and knew the car was for us. After going over the body, which was not that bad, we took it for a test drive. It sounded healthy but needed headers and exhaust. We had to check if it was a Posi-traction rear, and it was. The transmission shifted fine, but the linkage hung up. After talking it over, we decided it was exactly what we wanted and the next week it was home.
After looking hard at the car, we found that it was a Canadian built car, which meant that we could get the build sheet. After getting the build sheet from GM of Canada, we found out that our car was a true SS454 originally equipped with the M-22 4-Speed transmission, one of 138 built in Canada in 1971. The original motor and transmission were long gone, but we still have the documentation to prove what it left the factory as.
After getting a new set of headers, and a new 2.5″ Flowmaster exhaust, we turned to the interior and exterior of the car. After searching the Internet and looking at places all around the country, we found Ground Up, which turned out to be only 20 minutes from us. We started by purchasing a front bumper to replace the painted one that was currently on the car, new grille, and a lot of extra parts. After receiving the bumper, we were very pleased with the quality and service that Ground Up had to offer."
Chris explains the rest of the story, "After 3 years of playing with the car and replacing the things that we were capable of doing, we decided to do over the body on our car. After hearing many horror stories about cars going into the body shop, and not coming out for years, we were a little apprehensive at first. We found a body guy through a friend of a friend. His name is Tony Saragias in College Point, Queens NY. He is a real car guy and he only does one car at a time. We gave him the car, and he gave us a time frame of 3 months. 3 months to the day, we drove the car home. While in the body shop, we found the car needed new quarters and full floorboard, in addition to the 2 fenders and functional Cowl Induction hood that we were going to install. After extensive body work, 4 coats of Viper Red were sprayed and 3 coats of clear followed. The car came out amazing. The difference between the two bodies was unbelievable.
After getting the car back from the body shop, they began to reassemble the interior. They put in the console, the carpet easily fit it, the door panels fit perfectly, and the new weatherstripping finished it all off. Then they finished the exterior with new emblems and a sport mirror for the left side, fabricated from a Camaro mirror by Chris himself.
That takes Jim and Chris to the present. They are enjoying taking the Chevelle to local cruises and shows, but are having the most fun just driving it. Chris says, "This car was meant to be driven, and we put about 2500 miles on it annually. If it gets wet, it gets wet. It's not a trailer queen, and it is definitely not pampered. It's being driven like it was meant to be when it was built. What the future holds for us and the car is uncertain, but we are having a lot of fun with the car now, and it all would not have been possible without the helpful folks at Ground Up."
Thanks, Jim & Chris, we think your Chevelle is awesome (and wouldn't mind driving it how it was meant to be ourselves)! -Team Ground Up
---
Check out some of these photos of the restoration process by Chris & Jim!
---

---