Glen Saunders' 1970 Chevelle LS5 454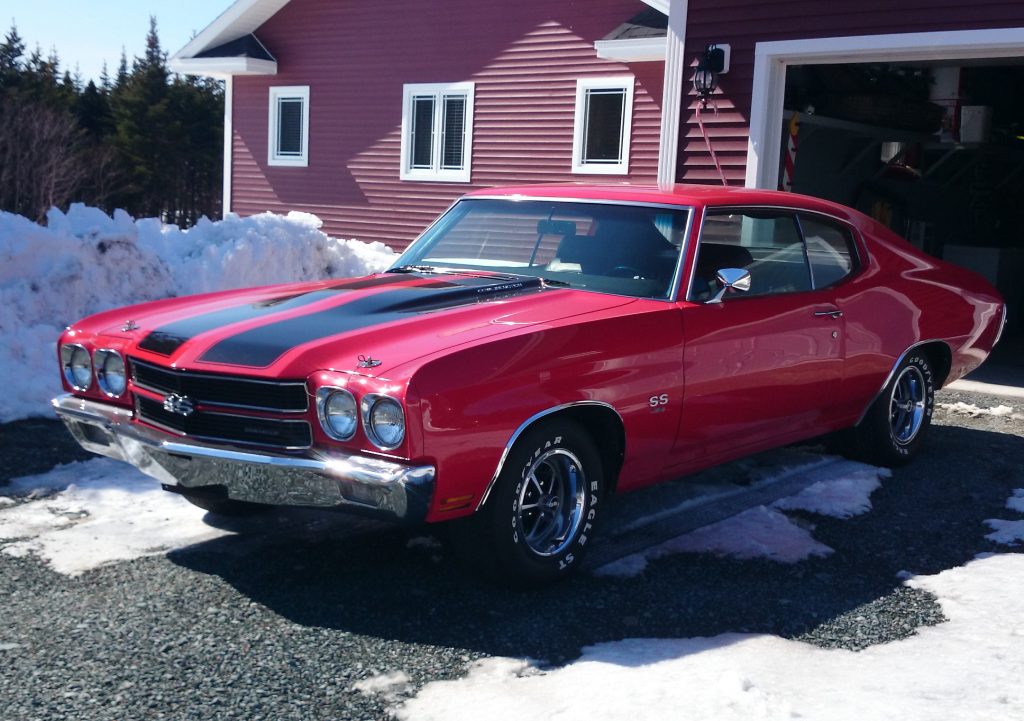 Glen Saunders' 1970 Chevelle LS5 454 – A Newfoundland Chevelle
Glen purchased this 1970 Chevelle from a retired car guy in Ontario, Canada and had it shipped back to his home in Newfoundland. Glen says,
"It's been the car of my dreams for a while and it's an added bonus that the car runs like a dream as well!"
The Chevelle Glen ended up with is a 1970 Chevelle LS5 454 with an automatic transmission. The car is painted in GM Cranberry Red (RPO 75) with painted black strips, a stunning combination. Glen's 1970 Chevelle also features a working cowl induction hood thanks to Ground Up SS396.com parts!
Awesome story Glen and what a beautiful ride you have here! Enjoy it!! -Team Ground Up 
---
Check out these photos taken by Glen!
---

1970-1972 Chevelle Cowl Induction Outer Door Kit

Ground Up Part #: ACX-970

Price: $106.76 (Save 15% buying this kit)
---
1970-1972 Chevelle Cowl Induction Hood Screen

Ground Up Part #: ACC-7116

Price: $29.95
---
1970-1972 Chevelle Cowl Induction Flow Control Valve

Ground Up Part #: AXL-913

Price: $23.95
---
1968-1972 Chevelle Front Inner Fenderwell Kit Steel

Ground Up Part #: RIF-68KIT

Price: $175.91 (Save 12% buying this kit)
---
1968-1972 Chevelle Coupe Inner Rear Wheelhouse Left Side

Ground Up Part #: RWH-29IL

Price: $75.95 (Save 40% buying this kit)
---
1968-1972 Chevelle Coupe Inner Rear Wheelhouse Right Side

Ground Up Part #: RWH-29IR

Price: $75.95 (Save 40% buying this kit)
---

---