Gary's Triple Black 1970 Chevy Nova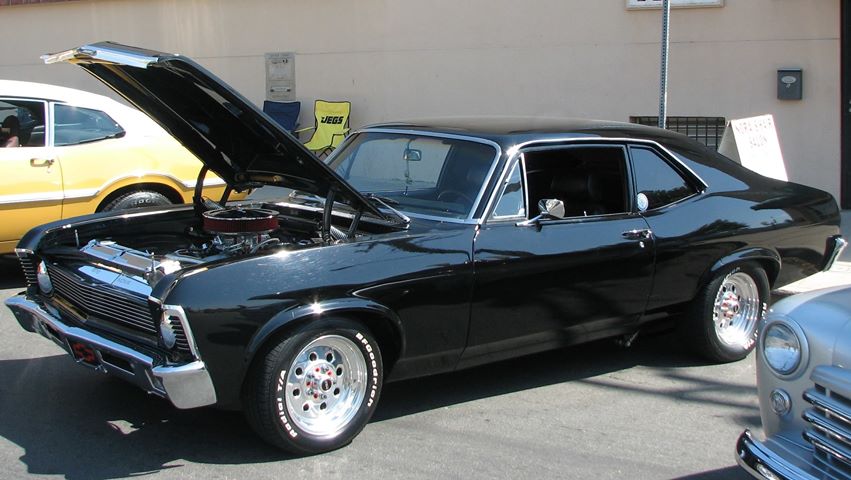 From a Six to a Big Block
Pro-Built 454 motor (Osborne Engineering), which now is 468 cubes 
New Comp Cams Extreme Energy kit, Cam, Lifters, Springs and Double Row Timing chain etc.
New HEI Distributor
New High Flow Aluminum Water Pump
Edelbrock Performer Intake
New Holley 750cfm Ultra Double Pumper w/mechanical secondarys 
New Griffin Aluminum Radiator, 4-row, w/ 1 ½ "tubes 
New Twin Spal Fans Car runs 185-degrees
New Polished Aluminum Overflow tank for radiator
New Custom Aluminum Radiator Shroud
New Transmission Cooler
New Weld Draglite Front/Rear Wheels and BF Goodrich Radial T/A Tires (had skinnies on it)
Harwood Fiberglass Cowl Hood with low-tension springs (Hood Pins)
All Marker lights removed and holes filled for clean look 
New Calvert Cal Tracs traction bars
New Gas Tank with Sump installed (No gas starvation on Launch) 
Sub-frame connectors installed
New Wiring Harness front to back.
Posi-Rear End rebuilt with New Richmond 3:42 ring and pinion
TH 400 Trans rebuilt in 2014 (Max Mileage 16K) Shifts perfect. New Trans. Case (No Leaks)
Hurst Quarter-Stick Shifter
New Chrome Fire Extinguisher
New Optima Red Top Battery, W/Alum. Taylor Box (Located in Trunk w/kill-switch)
Grant Wooden Steering Wheel
Pro-Car Front Buckets with lap belts.
New Gauges 6-gauge cluster (ALL WORKING)
4-Wheel Power Disk Brakes, w/Parking Brake.
New Chrome 8" dual diaphragm brake booster
New Chrome Vacuum canister for brakes
New Chrome Oil Pan with 1-piece seal (to fix leak)
---
---
Video by owner Gary Fogarty