10% Off On QUALIFYING Orders. No Minimum Purchase Required!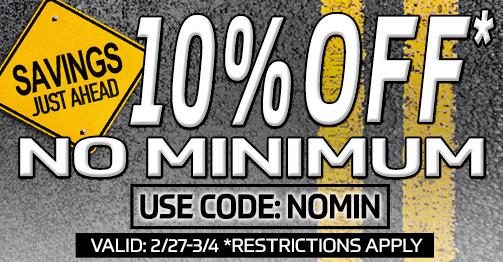 Use coupon code
NOMIN

and get 10% off* on all QUALIFYING Products!

10% OFF NO MINIMUM SALE WON'T LAST! TAKE ADVANTAGE OF THESE SAVINGS NOW!
---
---
SAVE 10% OFF YOUR ORDER*

COUPON: NOMIN
For example; Spend anything above $0.01 on items marked eligible for discounting and get 10% off all qualifying parts in your order. No minimum purchase is required for the coupon to apply.
Restrictions Apply. See below for complete details.
Promotion valid 02-27-19 12:00am est. to 03-04-19 at 11:59am est.
Use Coupon code: NOMIN at checkout
Coupon expires 03/04/19 at 12:00 am est.
Choose your car below to shop our selections of parts!
Terms and Conditions:
*For 10% offer to apply the order total must be over 0.01. 10% off coupon only applies to items marked as Part eligible for discounting: Yes (Discounting information can be found on the product description page for all parts) See the example below.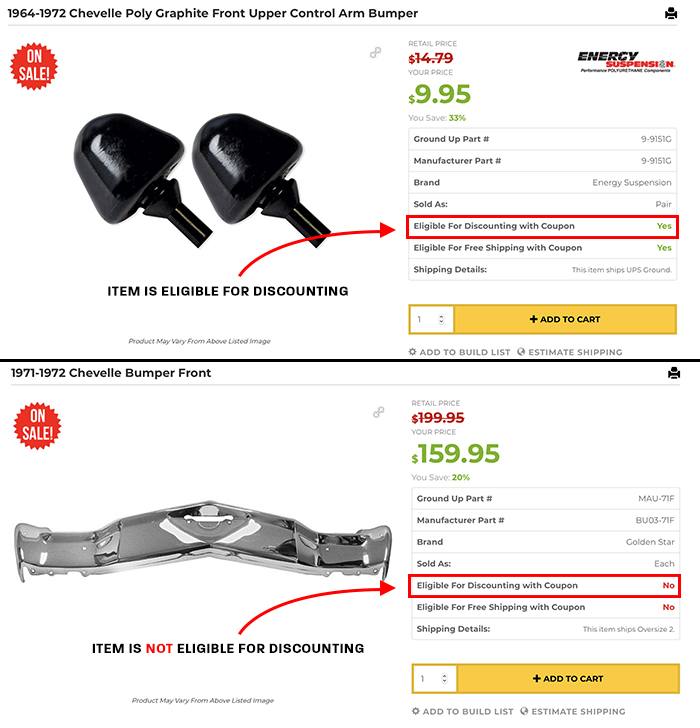 If your basket contains a mixture of items marked as both Yes and No for eligible for discounting your order total will be reduced to reflect any items set to Yes for "Part eligible for discounting: Yes".
Coupons can not be combined or used with any other offers, promotions, or coupons.
NOMIN coupon codes valid until 03/04/19 at 11:59pm est!