Donnie Gold's 1971 Chevelle SS454 LS5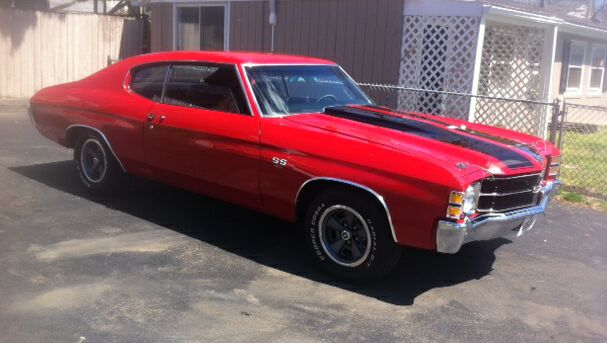 Donnie Gold's 1971 Chevelle SS454 LS5
Imagine owning and driving a 1971 Chevelle SS454 LS5 as a teenager in high school, to some this is unheard of but for Donnie Gold, this was a reality. His first 1971 SS454 LS5 was an Automatic car equipped with Air Conditioning a car that today some people would argue is highly valuable but to Donnie, it was a means of getting to class on time or more likely early. Unfortunately, much like life, good things rarely last forever and this Chevelle one day meet its fate when Donnie had to part with the car. While the car was gone the love for that Chevelle and the memories made in that Chevelle lasted forever, which brings us to Donnie's second 1971 Chevelle SS454 LS5.
In September of 2014, Donnie came across an almost identical 1971 Chevelle for sale on eBay and jumped on the opportunity without hesitation. What Donnie ended up with was a real deal 1971 Chevelle SS454 LS5 with a 4-speed manual, bucket seats, and console. While the car was 100% real it had seen far better days than what Donnie was left within his driveway. Donnie says;
"It did not come the way it looks now, it took me almost 5 years to correct the Chevelle and make it worthy of holding the LS5 nameplate."
Today Donnie's 1971 Chevelle is almost all stock with the exceptions of headers for some extra performance gains. The 1971 Chevelle as it stands today is a completely restored to original build sheet SS454 LS5. The car features the legendary LS5 GM motor coupled to a 4-speed M20 Muncie transmission, Bucket seats, optional D55 console, and correct Cranberry Red (RPO 917) paint with Black Super Sport stripes which were original according to the car's trim tag. We asked Donnie what was in store for this Chevelle next, he replied;
"Drive it, maintain it, and keep watching it go up in value!"
---
Check out these photos taken by Donnie!
---

1968-1972 Chevelle 4 Speed Console Top Plate High Quality

Ground Up Part #: IPA-0530-HQ

Price: $99.95 (Save 6% buying this kit)
---
1968-1972 Chevelle Console Shift Emblem

Ground Up Part #: ICE-6824

Price: $18.95
---
1967-1972 Chevelle Battery Topper R-59

Ground Up Part #: R59-TOP

Price: $44.95
---
1971-1972 Chevelle Bucket Seat Covers, Black

Ground Up Part #: IUP-A71

Price: $207.99
---
1971-1972 Chevelle Coupe Rear Seat Covers, Black

Ground Up Part #: IUP-A71R

Price: $119.99
---
1971-1972 Chevelle Bucket Seat Foam Kit

Ground Up Part #: ISF-73K

Price: $131.38 (Save 10% buying this kit)
---
1968-1972 Chevelle GM Restoration Front Seat Belt Right Side, Black

Ground Up Part #: 9700758

Price: $139.95 (Save 7% buying this kit)
---
1968-1972 Chevelle GM Restoration Front Seat Belt Left Side, Black

Ground Up Part #: 9700759

Price: $139.95 (Save 7% buying this kit)
---
1968-1972 Chevelle Fuel Tank Installation Kit

Ground Up Part #: TANK-2

Price: $39.97 (Save 15% buying this kit)
*Due to increased costs of manufacturing, materials, etc., prices can change. For current pricing please visit our web site, or contact a Ground Up sales representative*
---

---