Chris Petersen's 1969 Chevelle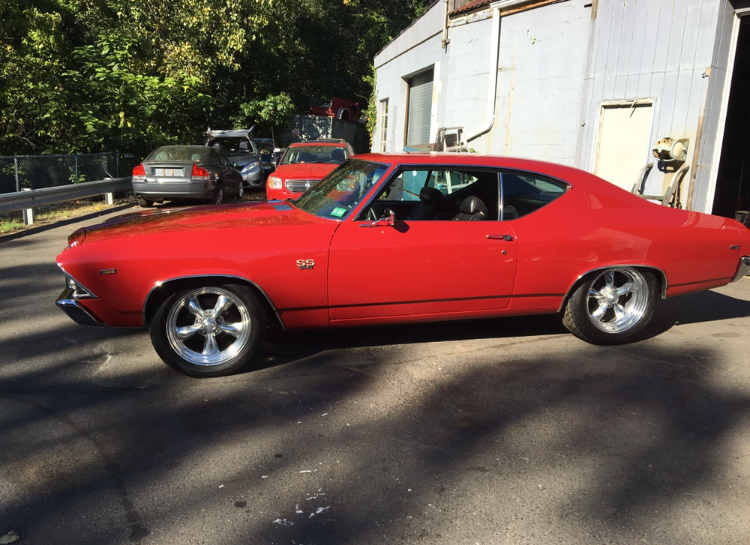 Chris Petersen's 1969 Chevelle – Dreaming Of A Chevelle
Ever since Chris Petersen was a young teenager he wanted to own a 1969 or 1970 Chevelle. Years past and Chris grew up, but the burning desire for owning a Chevelle remained. A few months ago this dream of owning a Chevelle turned into a reality when Chris bought nice 1969 Chevelle.
This 1969 Chevelle has a GM 502 coupled to a Turbo HydraMatic (TH350) transmission equipped with a shit kit. In the rear end sits a 12 bolt rear with 3.73 gears. Ground Up has helped Chris with many things including fasteners, locks, trim items and more. Chris says
"They have everything I've needed in stock, and same day pickup is awesome!" (Chris live close to the Naugatuck warehouse).
Great story Chris! Always great to see childhood dreams come true! – Team Ground Up
---
Check out these photos taken by Chris!
---

1969 Chevelle Grille Extensions

Ground Up Part #: LGX-112K

Price: $32.95
---
1968 Chevelle Hood Hinge Kit OEM Style

Ground Up Part #: RHG-996K

Price: $179.99 (Save 10% with this kit)
---
1969-1972 Chevelle Center Air Conditioning Vents

Ground Up Part #: IT-701

Price: $36.95
---
1964-1972 Chevelle Flywheel Inspection Cover For TH350

Ground Up Part #: NE-810

Price: $34.95
---
1964-1972 Chevelle Flywheel Inspection Cover Bolt Kit

Ground Up Part #: BFW-506K

Price: $1.95
---