An iconic American brand
Aldan American was one of the first companies to develop fully adjustable coilovers for street rods in the early 1980s.
Aldan later went on to design one of the first billet aluminum coilovers specifically designed for street performance & drag racing use. Over the years Aldan has supplied suspension components for some of the world's top builders & racers looking to get the best street performance out of their rides.
Aldan American Suspension produces every component that goes into their shocks & coilovers right here, in the USA. Even more impressive is the fact that Aldan Americans vendors & suppliers are all manufactures for aerospace & military applications, who hold their products to the highest of standards ensuring you get the best equipment on the market.
Today, after 35 years of business in the suspension industry, they have put a much larger emphasis on making Aldan American products more available and accessible than ever before, while staying true to their legacy of designing, building, and standing behind the highest-quality, American made suspension products available. It's these simple ideas that keep Garrett (Aldan American CEO) and his team driving forward every day.
Ground Up SS396.com carries the full line of Aldan American Suspension products for a range of applications covering Camaro, Chevelle, El Camino, Nova, and G-Body line-ups. Whether you're looking for single or double adjustable coilover kits, complete suspension packages or even our exclusively packaged control arm & coilover kits Ground Up SS396.com has you covered on the Aldan American products you need at the best price around!
---

Camaro

Chevelle

El Camino

Nova

Malibu

Monte Carlo

Buick

Oldsmobile

Pontiac

---
The DNA of Aldan Coilover Shocks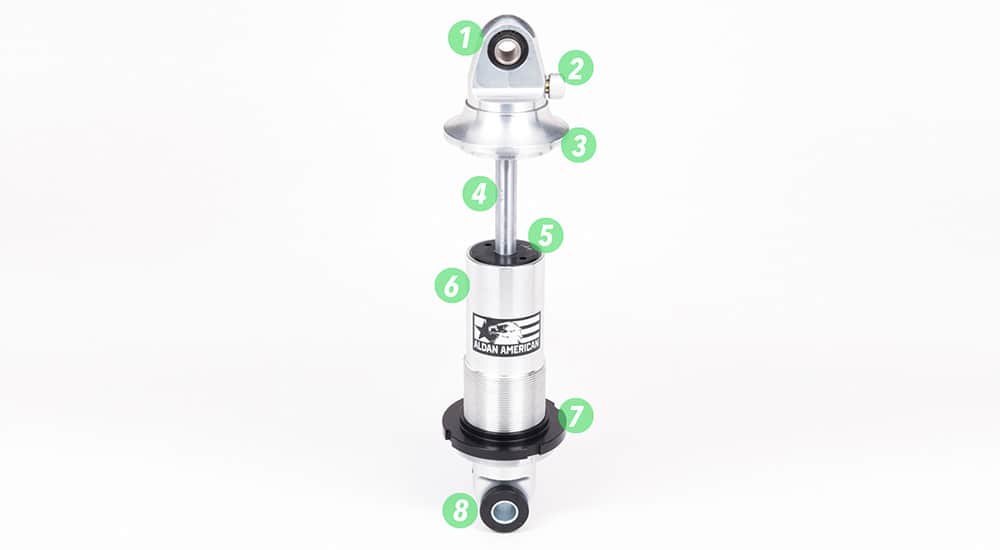 ---
So what goes into an Aldan American Coilover?
1 – Monster Shock Mounts™
Quality? Oh yeah! We CNC machine our coilover shock mounts out of 2.0" solid bars of aircraft-grade, 6061-T6 billet aluminum. This design and material we use are incredibly strong and ultra-lightweight when comparing to forged aluminum and steel welded, loop style mounts. Our Monster Shock Mounts™ can run polyurethane bushings or spherical bearings.
2 – Adjustment Knobs
Set it once, or always tuning? Aldans adjustment cams are machined out of solid brass bar stock. The brass is ultra-strong and non-corrosive when compared to steel. Plastic? No Plastic here. We machine our adjustment knobs from solid 6061-T6 high strength aluminum bar stock, built for extreme use. Easily adjust your shocks by hand for quick tuning on the fly.
3 – Spring Collet
On a coilover shock, the coil spring used works to suspend your vehicle. A well built, high-quality spring collet with proper fit & finish is important to keep the coilspring in place and to keep everything set on the coilover. We machine our one-piece spring collets out of solid 6061-T6 billet aluminum. We machine a contour on our collets that not only looks great but also provide additional clearance when comparing to competitor offerings. For fit & finish our Monster Shock Mounts™ seat flush in our spring collets for proper fitment & additional strength.
4 – Shock Shaft
Yes, there's some technology here. We run heat-treated, high strength shock shafts in all of our coilovers. Offering 5/8" and 9/16" O.D.'s depending on the model – Our shafts are chromed and finish ground before assembly which drastically reduces seal friction, providing a longer life cycle to our coilovers.
5 – Shock Seal
We've developed a one-piece seal design built to handle whatever road you're looking to take. Low friction, Viton seals & o-rings allow our seals to handle extreme heat and abuse. Black anodize finish allows removal so these shocks can be rebuilt, revalved or serviced when desired. Our finished ground shock shafts matched with this one-piece design provides a smooth ride built to handle the pressure.
6 – Coilover Shock Body
Shock bodies are the foundation for keeping it all together in a coilover. 6061-T6 aluminum is used on our shock bodies because it's light, strong and runs cooler when comparing to steel. High quality? Yes! We run a standard thread on our bodies which is great for street use. Depending on the shock model, our shock bodies come with a machined, anodized or polished finish.
7 – Coilspring Retainer
A spring retainer like the spring collet is going to hold the spring in place. The retainer is going to allow you to adjust the spring for ride-height and performance. The retainers are CNC machined from extruded 6061-T6 aluminum with a matched standard thread for superior fitment and cinch to our shock body. Tight tolerances and matching the fit, form, and functions are the difference in a high-quality coilover – We provide this on everything down to our spring retainers. Designed to work with most spanner wrenches for easy adjustment and backed up with a lower lock nut on select models for excellent holding and adjustment capabilities.
8 – Monster Shock Mounts™ – Lower Mount
Lower Monster Shock Mounts™ are a thing of precision and beauty. We CNC machine these from our 2.0" solid bars of aircraft-grade, 6061-T6 billet aluminum. On the inside of the mounts, we machine the internals and finish with a special thread to seat into our shock bodies. The thread is then hit with a high temp thread locker used by the US military and several off-road and racing shocks operating in the most extreme conditions. We've designed our lower Monster Shock Mounts™ to run polyurethane bushings or spherical bearings.
Obsessing over quality and performance, while manufacturing here in the USA is what we do. When we save, you save – bottom line.
---