Brand Feature Friday – FiTech Fuel Injection
---
Just because your classic car came with a carburetor doesn't mean you can't have all the advantages the latest in electronic fuel injection has to offer. Thanks to FiTech and the array of retrofit fuel injection systems they offer it's easy and more affordable than ever to toss that original carb to the side and modernize your classic!
Ground Up SS396.com carries the full line of FiTech EFI products for a range of applications covering Camaro, Chevelle, El Camino, G-Body, & Nova. From Go EFI Systems, and Go Port Systems, to Ultra Ram EFI, LS Induction, and more Ground Up SS396.com has you cover on the FiTech EFI products you need at the best price around!
---

---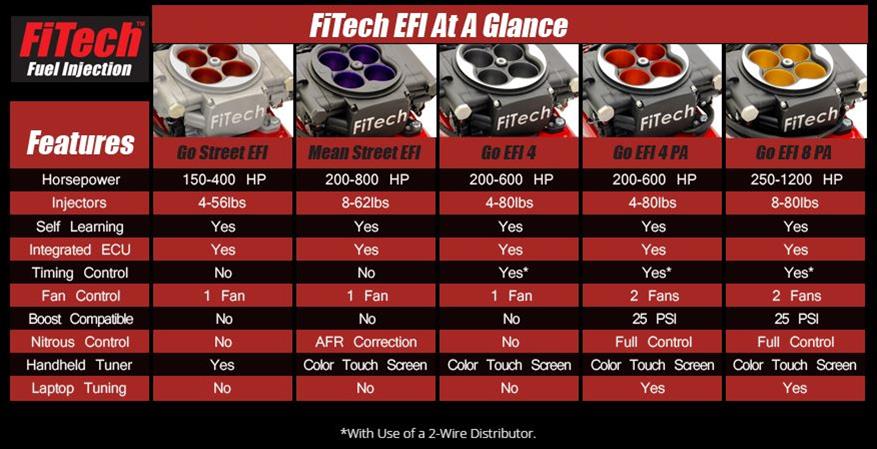 Go Street EFI 150-400 Horsepower
Not everyone needs or has 600 horsepower or a wild camshaft. This system is for original engines or crate replacements like the ZZ4. The Go Street EFI is a ready-to-run system that eliminates some tuning functions, such as timing control, while providing the same functions necessary to get the best performance. It uses four 56-lb injectors and the integrated ECU will also control one engine-cooling fan.
Easy Street EFI 150-600 Horsepower
This system is a step up for engines with a more aggressive cam and mild engine upgrades. It uses four 80-lb injectors.
Mean Street EFI 200-800 Horsepower
For high-performance street applications this system includes eight 62-lb injectors and AFR correction capability for use with nitrous systems. It comes with a color touch screen.
Go EFI 4 200-600 Horsepower
This system is perfect for an everyday driver, a weekend cruiser or bracket racer. It features ignition timing control and is equipped with four 80-lb injectors. This system is available in matte black and bright aluminum.
Go EFI 4PA 200-600 Horsepower
The PA stands for power adder, which means this system handles of 25 psi of boost right out of the box and can be used in a blow-through turbo or blower application or on a single roots style supercharger. It will also accommodate a single stage of wet nitrous and control A/F ratios as well as ignition timing. It uses four 80-lb injectors, the ECU will operate two fans and it offers the option to tune with a laptop computer.
Go EFI 8 Power Adder Plus 250-1200 Horsepower
Although this is the ultimate system for serious power builder it will work equally well on a 383-cubic-inch daily driver.
This system features eight 80-lb high-flow injectors, the annular discharge design is increased to 20 jet streams to handle the huge flow this unit is capable of and it comes with data logging and pro tuning software. It will handle 25 psi of boost right out of the box and can be used in a blow-through turbo or blower application or it can be mounted on a single roots style supercharger.
Go EFI 3×2 Tri Power 600HP – External ECU
Looking for something really cool for your restomod? How about FiTech's brand-new Go EFI 3×2 Tri Power. This system uses three 500-cfm throttle bodies with an external ECU that incorporates all the functions of the Go Street EFI series. The finish on the two-barrel throttle bodes is classic carburetor gold.
Go EFI 2×4 Dual Quad
Nothing says muscle like dual quads and FiTech offers them in several configurations. The EFI 2×4 625-horsepower kit uses one throttle body that handles all of the brains while the second holds four additional injectors and the IAC motor for idle stability. These can also be used in cross-ram and tunnel-ram configurations. This system is available in bright aluminum or matte black.
For 6-71 and 8-71 Roots superchargers or naturally aspirated applications that produce 1,200 hp there is the Go EFI 2X4 Power Adder kit. Boost A/F targets are simple to adjust while timing curves can be retarded according to boost through the touch screen controller. This system is only available in matte black finish.
---
FiTech EFI FAQ's
Q: Why are your systems so inexpensive?
A: We like to answer that with another question. Why are the others so expensive? It's a throttle body, 4 injectors, a few sensors and an ECU. Not much there when you really break it down. Our OE ties allow us to source components at a great rate and our engineering is spread over many projects so it is not all rolled into the price of one system. We have been designing OE systems privately for 16 years and believe that the only way the EFI will EVER replace a carburetor is if the cost gets more reasonable. We have been working to make that happen and this is the first step. Expect more in the future ! Go EFI!!
Q: Do I need any additional boxes i.e. MSD or firewall mounted driver boxes like the other brands?
A: No, you don't, others claim to be all inclusive but you have to mount a box on the firewall for it to work and a CDI for the timing control to work. Plus the ECU that's on the throttle body. That's three boxes for one system! GO EFI is one throttle body that has EVERYTHING you need in one neat package.
Q: Will this system fit an Edelbrock dual quad manifold?
A: Yes , it was designed to fit them from the start.
Q: Where do I mount the computer?
A: There is NO COMPUTER TO MOUNT! It is INSIDE the Go EFI under the FiTech logo where it belongs. No holes to drill and no harnesses to burn! The Perfect System!!
Q: When would I use a CDI box?
A: Use one whenever you would in a normal carbureted application. If you have one already, absolutely keep it! Our system works great with it. If you are expecting high RPMs, Boost, Nitrous… for sure you are going to want one BUT for the average street machine, you are fine without it. It's up to you and your HP needs.
Q: Does your system have the same type of cold start/ warm up qualities of new cars? i.e. start, stay running, higher idle , then come down to idle rpm in cold weather that we expect?
A: FiTech is a group of OE engineers bringing you performance parts at an affordable price, and all of our new car ECU features are packed into our performance division products so YES, you can expect all of the new car performance out of the FiTech EFI products.
Q: Do I need to tune my engine with the Handheld controller or are the factory settings good enough for my car?
A: You only need the Handheld controller to do the initial setup of your system. After that, the computer takes over and provides you with a great factory set tune. You may want to "DIAL" it in for your particular application since it is easy and actually pretty fun and rewarding, but you do not have to!
Q: Do I need to keep the Handheld controller connected at all times for the system to function?
A: No, after initial setup you can disconnect the handheld and store it away for future tuning if necessary BUT it is such a cool feature to have you probably won't want to!
For more FAQ's visit FiTechs FAQ page here! 
---

Click here to see more videos about Fitech EFI systems on their YouTube Channel
---