Quality, Service and Value are not new for Classic Instruments™.
They have been their primary objectives for over 35 years. Even with most of their design work now being done with computers, they still put in all the time, effort, and love essential to designing a long-lasting, high quality product. Each and every one of their gauges is designed, assembled and calibrated with pride and quality right here in Boyne City, Michigan. Their proudly "Made in the USA" products are designed and built for street rods by street rodders!
Classic Instruments™ are the first and only manufacturer to combine all-electrical instrumentation and micro-chip technology with the finest quality, accuracy, and vintage styling available at any price. Their unique concepts and trend-setting designs have kept Classic Instruments™ ahead of the rest industry for over 37 years. With new and original designs to meet the unique needs of the automotive enthusiast. Each part is designed and assembled to Classic Instruments' exact top of the line specifications and tolerances. Component testing at each stage of the assembly process assures the accuracy and reliability their products are famous for. If Classic Instruments™ can't build it better than anyone else, then they won't build it.
Ground Up SS396.com carries the full line of Classic Instruments™products for a range of applications covering Camaro, Chevelle, El Camino & Nova. Whether you're looking for something more OE styled or something completely custom Ground Up SS396.com has you covered on the Classic Instrument products you need at the best price around!
---

---
Camaro

Chevelle

El Camino

Nova

---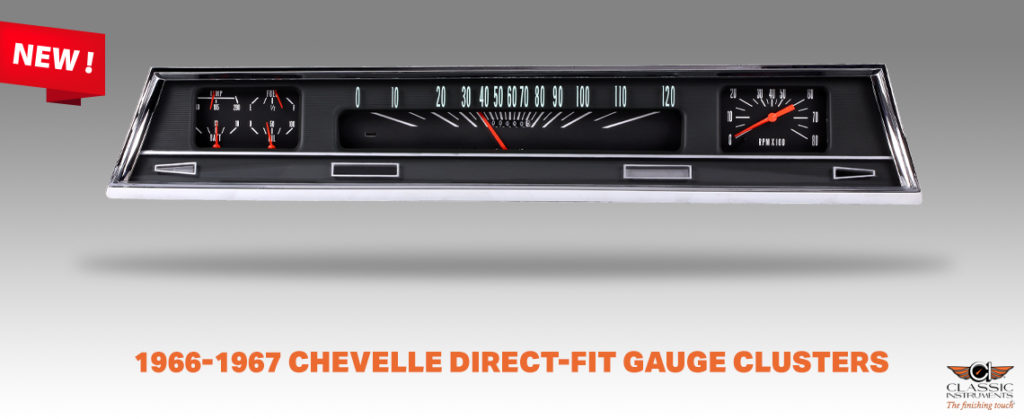 Classic Instruments is pleased to announce the release of its 1966-67 Chevelle direct-fit cluster! This all-electric direct-fit cluster features a speedometer and tachometer, and fuel, oil, temperature, and volt gauges in one of four available styles and arrives ready to install directly into the stock dash of 66-67 Chevelle's.
The assembly features Classic Instruments' ZST™ meaning it works directly with ECM or VSS signals requiring no additional control boxes. The turn signals and high beam indicator are in the stock locations plus a built-in shift light and warning light which all utilize LED lights for bright, even illumination. Everything needed to install the package is provided in the kit including all necessary sending units. The cluster is designed to reuse the stock fuel sending unit or any aftermarket fuel sender (purchased separately) thanks to a built-in ohm range selector switch.
Whether you want to freshen up the stock look of your dash or go with a complete custom assembly to make it your very own, Classic Instruments '66-'67 Chevelle direct-fit cluster offers the perfect seamless installation you desire.
---

One of the first decisions Classic Instruments™ made as a new company in 1977 was whether to continue the time-honored tradition of building mechanical gauge movements or step forward into the world of electronics.
Classic Instruments™ made that decision by determining to utilize the very latest technology in computer chips, servo motors, solenoids, remote sensors, and all the other components that are common-place today!
To make that decision was difficult in one respect. How do we convince generations of hot rodders and car-builders that electronics were the way to go? The first challenge to unravel was–just how did mechanical gauges get the reputation for accuracy and durability that they enjoyed?
Classic Instruments' quickly found that…
Mechanicals had been the "only game in town" for decades
Mechanicals were used by the competitive race car drivers and owners
The perception was that mechanical gauges were more accurate than electrical instruments!
This translated, at least for Classic, that "Yes-mechanicals had been the only game it town", and "Yes-they were being used by the best race drivers out there", and "Yes-they did appear to be more accurate than the electrical instruments that were available!"
"The only game in town" was true until the technology and know-how in remote electrical sensing became available and affordable, as it did in the 1970's!
"The race drivers and mechanics all used mechanicals." This is another true statement because quality electrics were not yet available, and because most race cars didn't even carry a battery. Remember the over-sized external rotary starters the pit-crews used to shove into the noses of the cars to get them started–and the magnetos that were used instead of a "battery-powered" ignition system!
"Yes, mechanicals did appear to be more accurate," another true statement at the time! Since the mid 1970's, gains in electronic technology, component costs, and assembly methods have made electronic instruments available at a reasonable price and with an accuracy and reliability that rivals even the most expensive mechanical units.
---

Check out their website for even more information.