Shop Nova
1962-1974 Nova Parts Catalog by GROUND UP
The Chevy Nova parts catalog is available now! Our Nova Auto Parts Mail Catalog is also available via our online Nova Part Catalog Store. It's free!
1962-1974 Nova Parts Catalog:
All you need is Adobe Acrobat Reader (it's free). If you don't have Adobe Acrobat you can download your free copy by clicking here.

Note: These files may take a considerable amount of time depending on your Internet connection.
Get your free copy of the Nova Parts Catalog today!

Phone: 1-866-358-2277 (toll free)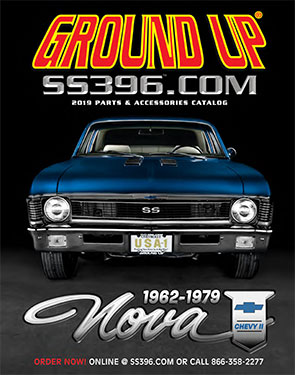 The 2013 Nova Parts PDF print catalog now supersedes all previous catalogs and reflects pricing at time of print. Please be advised that due to the nature of the industry and changing costs of raw materials, prices in this PDF print catalog are subject to change without notice. Please call our sales department at 866-358-2277 or email info@ss396.com with any questions.
SS396.com News
Like us on Facebook

Follow us on Twitter



Submit your feedback!
Nova Catalog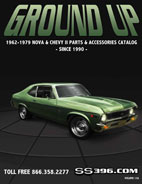 The Nova Parts Catalog from GROUND UP & SS396.com! Download our online catalog or order your free copy today!

Order the SS396.com Nova Parts Catalog!
Virtual Garage
Setup, save, and access your Nova's details! Instantly select one or more of your cars when ordering!
Start using the 1962-1979 Nova Virtual Garage by clicking here.
Track a Package

GROUND UP Stores:
1964-1977 Chevelle
1964-1977 El Camino
1967-1981 Camaro
1962-1979 Nova
1978-1988 G-Body
Clubs & Resources

Club Listings & Resources