Shop Chevelle
Chevelle, Nova, Camaro and Car Show Image Galleries

GROUND UP CARS | CAR SHOWS
CUSTOMER CARS: | Chevelle | Nova | Camaro | El Camino | Other






Send your pictures with story to:
ed@ss396.com
We appreciate all of your car photos and stories.
Please include your first and last name in the email.
Due to the large volume of submissions, please allow 4-6 weeks for your car photos and story to be posted.
SS396.com News
Like us on Facebook

Follow us on Twitter



Take Our Survey:
We have a new survey up and we'd like to get your feedback on how to improve the Chevelle Parts and SS396.com web site.
Submit your feedback!
Chevelle Catalog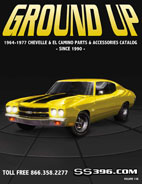 The Chevelle Parts Catalog from GROUND UP & SS396.com! Download our online catalog or order your free copy today!

Order the SS396.com Chevelle Parts Catalog!
Virtual Garage
Setup, save, and access your Chevelle's details! Instantly select one or more of your cars when ordering!
Start using the 1964-1977 Chevelle Virtual Garage by clicking here.
Track a Package

GROUND UP Stores:
1964-1977 Chevelle
1964-1977 El Camino
1967-1981 Camaro
1962-1979 Nova
1978-1988 G-Body
Clubs & Resources

Club Listings & Resources