Shop El Camino
1970 El Camino Parts and Restoration Specifications
The 1970 El Camino received a major front end restyling. The headlamps were located in body colored extensions outside of the grille. Unlike its Chevelle counterpart, the 1970 Chevelle El Camino featured round parking lamps in the front bumper instead of square. The front turn signals were moved to the very bottoms of these only year only fenders. The rest of the car remained virtually the same as that of previous years.
The 1970 El Camino trim was available in four levels including the base model El Camino, the El Camino Custom, the El Camino SS396, and the El Camino SS454. All 1970 El Camino base models featured a new dash with a sweep style speedometer. The exterior was very stripped down and included a Chevrolet script emblem on the upper left grille section, El Camino emblems and engine callout emblems on the rear of the front fenders, bright tailgate latch, and a Chevrolet emblem on the tailgate. The 1970 El Camino Custom featured lower body side moldings, bright wheel opening moldings, silver anodized lower body finish, bed moldings, and a wide rear tailgate molding. Both Super Sport models featured a black grille, special domed hood with pins or a cowl inducted hoods, specially styled wheels, heavy duty suspension, power disc brakes, and SS badges throughout.
The buyer could have ordered a number of different El Camino exterior colors including Classic White, Cortez Silver Metallic, Shadow Gray Silver Metallic, Tuxedo Black, Astro Turquoise Silver Metallic, Fathom Blue Silver Metallic, Misty Turquoise Silver Metallic, Green Mist Silver Metallic, Green Mist Silver Metallic, Forest Green Silver Metallic, Gobi Beige, Champagne Gold Silver Metallic, Autumn Gold Silver Metallic, Desert Sand Silver Metallic, Cranberry Red, and Black Cherry Silver Metallic. Vinyl tops were available in White, Black, Dark Blue, Dark Gold, and Dark Green.
To complement the wide variety of available colors were the available drive train combinations that could be opted for on the 1970 El Camino. Base power was had by a six cylinder engine. Buyers who wanted more power could opt for a V-8.
About 48,000 1970 Chevrolet El Caminos were produced.
1970 El Camino Information
Engine Options

250 cubic inch 155 horsepower 6 cylinder (base)
307 cubic inch 200 horsepower V-8 (base)
350 cubic inch 250 horsepower V-8 (optional)
350 cubic inch 300 horsepower V-8 (optional)
396 cubic inch 325 horsepower V-8 (base)
396 cubic inch 350 horsepower V-8 (optional)
396 cubic inch 375 horsepower V-8 (optional)
454 cubic inch 360 horsepower (optional)
454 cubic inch 450 horsepower (optional)
Chevy El Camino Specifications:
For more detailed information on specific 1970 Chevrolet El Camino codes, options, or production information, check out our Chevelle literature section or visit our friends at www.chevelles.com.
All information is correct to the best of our knowledge through hours of research and expert opinions. Ground Up will not be held responsible for any incorrect information herein.
SS396.com News
Like us on Facebook

Follow us on Twitter



Take Our Survey:
We have a new survey up and we'd like to get your feedback on how to improve the El Camino Parts and SS396.com web site.
Submit your feedback!
El Camino Catalog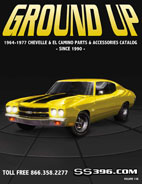 The El Camino Parts Catalog from GROUND UP & SS396.com! Download our online catalog or order your free copy today!

Order the SS396.com El Camino Parts Catalog!
Virtual Garage
Setup, save, and access your El Camino's details! Instantly select one or more of your cars when ordering!
Start using the 1964-1977 El Camino Virtual Garage by clicking here.
Track a Package

GROUND UP Stores:
1964-1977 Chevelle
1964-1977 El Camino
1967-1981 Camaro
1962-1979 Nova
1978-1988 G-Body
Clubs & Resources

Club Listings & Resources