Shop Camaro
1967 Camaro Parts and Restoration Specifications
With the Ford Mustang already eating up the new pony car market, Chevrolet announced its rebuttal on September 26th, 1966. Originally named Panther, the Camaro moniker was chosen instead. Some experts believe the word means "companion" or "friend" but others argue that it simply has no meaning at all. Either way, this new pony car would mark the beginning of a whole new era of American muscle car icons.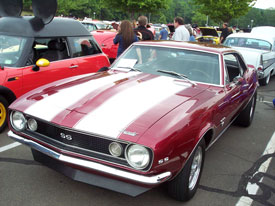 The 1967 Camaro was available in many different configurations. From a plain Jane sport coupe to asphalt eating Super Sport, there was something for everyone! All 1967 Camaros shared the same body unlike the Chevelle and were available in either coupe or convertible. Buyers could choose from the base model Sport Coupe, drag strip ready Super Sport, or road racing Z-28. The Rally Sport option with hidden headlights could be added as a separate packing to any of those models.
Interiors could be optioned with either bucket seats or bench seats and were available in a variety of colors and styles. Standard interiors were available in Black, Light Blue, Red, White, or Gold. Buyers who ordered a deluxe interior received unique door panels and striped Comfortweave seats with color choices of Aqua with Dark Aqua stripe, Black with White stripe, Bright Blue with White stripe, Red with Black stripe, Off-White with Black stripe, or Gold with White stripe. A fold down rear seat was available but very rare. An optional console was available with our without gauges on bucket seat cars. The buyer could have ordered a number of different exterior colors including Tuxedo Black, Ermine White, Nantucket Blue, Deepwater Blue, Marina Blue, Granada Gold, Mountain Green, Emerald Turquoise, Tahoe Turquoise, Royal Plum, Madeira Maroon, Bolero Red, Sierra Fawn, Capri Cream, or Butternut Yellow.
To complement the wide variety of available colors were the available drive train combinations that could be opted for on the 1967 Camaro. Base power was had by one of two available six cylinder engines. Buyers who wanted more power could opt for aV-8. Manual transmissions were either 3 speeds or 4 speeds. The 2 speed Powerglide was the standard transmission and a 3 speed Turbo Hydramatic was optional.
About 221,000 1967 Camaros were produced.
Model Options:
1967 Camaro
Models

1967 Camaro Standard Sport Coupe
1967 Camaro Rally Sport (hidden headlights)
1967 Camaro Super Sport
1967 Camaro Rally Sport Super Sport (RS/SS)
1967 Camaro Z/28
1967 Camaro Rally Sport Z/28 (RS/Z/28)

Body Styles

2 Door Coupe
2 Door Convertible (except Z/28)
Engine Options

230 cubic inch 140 horsepower 6 cylinder (base)
250 cubic inch 155 horsepower 6 cylinder (optional)
302 cubic inch 290 horsepower V8 (base Z/28, Z/28 only)
327 cubic inch 210 horsepower V8 (base)
327 cubic inch 275 horsepower V8 (optional)
350 cubic inch 295 horsepower V8 (base Super Sport, SS only)
396 cubic inch 325 horsepower V8 (optional Super Sport, SS only)
396 cubic inch 375 horsepower V8 (optional Super Sport, SS only)
Chevy Camaro Specifications:
For more detailed information on specific codes, options, or production information, check out our literature section or visit our friends at www.camaros.net.
All information is correct to the best of our knowledge through hours of research and expert opinions. Ground Up will not be held responsible for any incorrect information herein.
SS396.com News
Like us on Facebook

Follow us on Twitter



Take Our Survey:
We have a new survey up and we'd like to get your feedback on how to improve the Camaro Parts and SS396.com web site.
Submit your feedback!
Camaro Catalog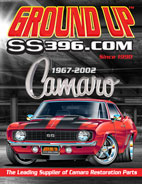 The Camaro Parts Catalog from GROUND UP & SS396.com! Download our online catalog or order your free copy today!

Order the SS396.com Camaro Parts Catalog today!
Virtual Garage
Setup, save, and access your Camaro's details! Instantly select one or more of your cars when ordering!
Start using the Camaro Parts Virtual Garage by clicking here.
Track a Package

GROUND UP Stores:
1964-1977 Chevelle
1964-1977 El Camino
1967-1981 Camaro
1962-1979 Nova
1978-1988 G-Body
Clubs & Resources
Club Listings & Resources